Printer-friendly version of this article
(Link opens in a new browser window)
Legal Discrimination
by Joe Rappaport
When Vancouver Mayor Sam Sullivan flew into Kennedy Airport on February 20 for an official visit, he couldn't get a cab. I mean, he really couldn't get a cab.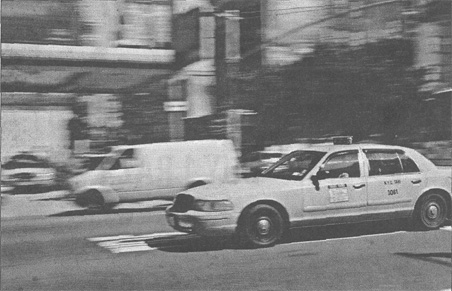 Only 27 of the city's 12,787 yellow taxis can handle wheelchairs
Photo by Lane Johnson
Sullivan, quadriplegic since he broke his neck skiing at 19, uses a wheelchair. But only 27 of the city's 12,787 yellow taxis can handle wheelchairs. (Last week, Governor George Pataki signed a bill that would put 150 more accessible cabs on our streets.) So Sullivan was out of luck.
Here's how he describes his visit on the City of Vancouver's Web site:
It was very difficult arriving. There were no wheelchair-accessible taxis available at the time I got in. ...I had to be carried into a van by four people and my wheelchair had to be manhandled into a van as well as for me to get into New York and get to my hotel. I sure appreciate the incredible wheelchair-accessible taxis and the general accessibility of Vancouver
Quite a welcome we give in this town, eh? But for the tens of thousands of wheelchair users in New York City, Sullivan's experience is no surprise. They must deal with this kind of treatment every day.
(Columnist's disclosure: I have advised the Taxis for All Campaign, which works for an accessible fleet, and continue to volunteer for them.)
What should shock all New Yorkers is that, years after cities like Vancouver, San Francisco and London put thousands of wheelchair-accessible taxis on the road, New York City's leaders still come up with all sorts of excuses for why they can't do the same.
For instance, some officials say insurance costs will rise for anyone who buys an accessible cab. But accessible taxis are as safe as any other cab, so there's no reason it would happen. If it did, it's likely insurance regulators would step in and put a stop to such a discriminatory practice.
They also say the vehicles cost too much and don't work well, even though affordable minivans — outfitted with a ramp that allows wheelchair users to enter the cab — are on the road as comfortable full-service taxis around the country.
Meanwhile, the city wants cabbies to fork over thousands to pay for a credit card system and GPS technology that will do nothing to make taxis fairer and more accessible.
There is some hopeful news, though. For one, the City Council now is consdering a bill, Intro. 378, that would mandate the gradual introduction of wheelchair-accessible taxis throughout the entire fleet and eventually would require all cabs to be significantly more fuel-efficient.
Second, a new manufacturer will soon enter the accessible taxi business, with new cabs slated to roll out as early as next year. These have been designed from the get-go with wheelchair users in mind.
No matter what, though, it's up to Mayor Bloomberg and City Council Speaker Christine Quinn to take on one of the most blatantly discriminatory businesses in our city. That way, when Mayor Sullivan next visits New York, he might have better luck.
Transit expert Joe Rappaport is an advisor to environmental and disabled groups.

am New York, August 23, 2006

Printer-friendly version of this article
(Link opens in a new browser window)